DRINK YOUR FAVORITE JUICE WITH A CONVENIENT PORTABLE BLENDER!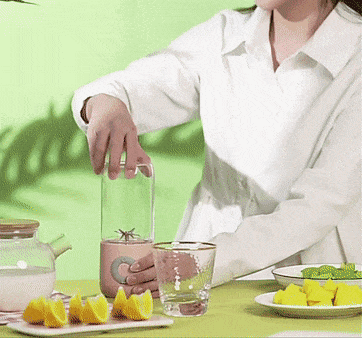 HIGHLIGHTS
 

POWERFUL PORTABLE BLENDER:
Equipped with a 30W motor and 6 stainless steel blades, this compact blender is ideal for shakes, protein shakes, juices, baby food, and more.
 

UNIQUE APPEARANCE AND CONVENIENT DESIGN:
Small size and USB charging make it easy to take with you wherever you go. The charging port at the bottom and the silicone plug make it waterproof.
 

ONE BUTTON CLEANING:
to wash just pour some water into the cup, press the button to start cleaning.
 

ENVIRONMENTAL FRIENDLY MATERIAL:
The portable blender cup is made of Tritan material. All parts do not contain BPA and are suitable for baby food.
RECHARGEABLE:
 Designed with a 1500mAh battery, the blender can be charged quickly and easily, and it can be used for a long time after being fully charged.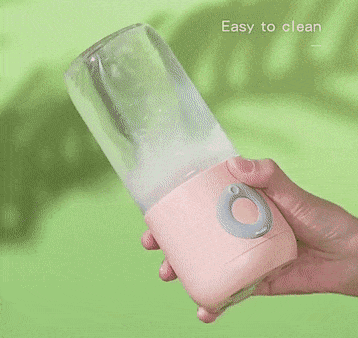 DESCRIPTION
Our portable blender
has a powerful
built-in 1500mAh battery.
There is enough charge to
take it with you.


Strong force load at
18000rpm speed,
it can stir a variety of fruits quickly.
The convenience of carrying
allows you to
take a bottle of juice anywhere,
go in for
sports, for a walk, in nature, at a picnic.

With a
USB charging
cable, it can be charged anytime, anywhere. The blender is
easy to use and washes quickly.

PACKAGE INCLUDED:

SPECIFICATIONS:
One-time maximum juice output:

401mL (inclusive)-600mL (inclusive)

Pulp residue box capacity:

500ml or less (including 500ml)

Current:

1-2A

Voltage:

DC 5V

Material:

ABS

Power:

30W

Voltage:

≤36V

Battery capacity:

1500mAH

Battery voltage:

3.7V

Size:

 

7*7*19.5cm